I don't think there's any object in the world more difficult to photograph well than a guitar…so many glossy areas, light-to-dark contrasts, all the many color ways.  Definitely a challenge, one that I've known to stump even a professional.  I took the photos below over a period of years, after hours of trial and error and lots of dollar$ spent on lighting and equipment.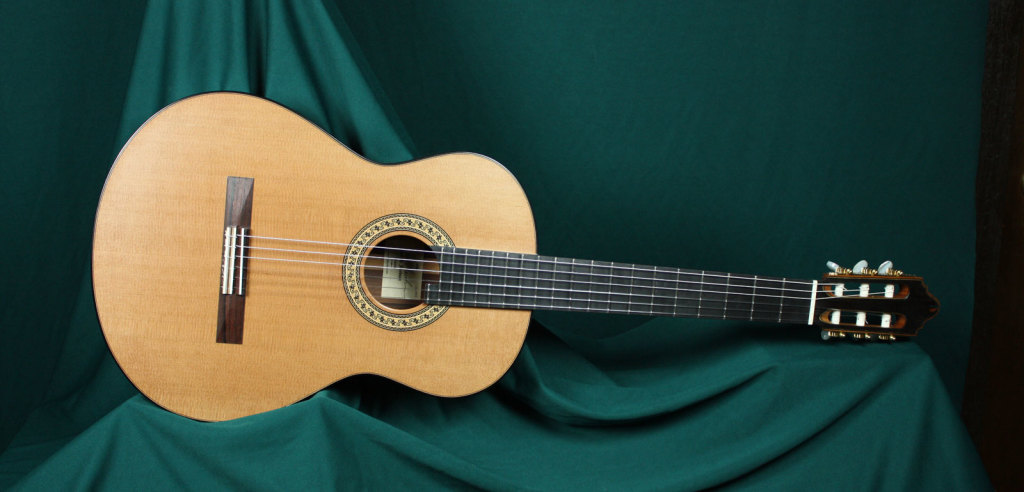 Two fine examples of Indian rosewood backs.  This wood has has long been a cultivated species and so remains readily available.
These two backs are Madagascar rosewood, the closest wood I ever found to Brazilian rosewood in terms of color, grain and density.  Sadly, the wood is no longer available for guitars.
Amazon rosewood continues to be available, but examples like this with a gorgeous sapwood center figure and near-perfect quartering are very rare.
Cedar soundboards with different rosettes.  This wood comes from the American Pacific Northwest and is still available in excellent quality.
This headstock is equipped with Gilbert tuners, invented many years ago by luthier John Gilbert.  Some folks think they look a little industrial because of the black molded-plastic gear housings, but in terms of mechanical quality they are definitely top-of-the-line.
These headstocks are outfitted with Rodgers tuners, widely regarded as the world's finest.  David Rodgers and I co-developed the plate design decades ago to mimic my headstock design.  My standard order for these tuners is: "Any engraving."  Yes, they're all different, every one of them, thanks to the amazing talents of engraving artist Denis McQuoid.
This guitar—seen here prior to its completion—was made from the last Brazilian rosewood back/sides set I ever expect to see in my workshop.  It remained incomplete for several years waiting for a customer who wanted both a spruce soundboard and BRW back/sides.  Then when I got the order and began moving it toward completion, I made a horrifying mistake: I reversed the installation of a template in my neck/heel dovetail jig and as a result cut right through the back with the router.  (Who was it who told me, "It's not making a mistake that matters, it's what you do to recover"?  I think it was Pepe Romero.)
I was determined not to lose that BRW set, but I was prepared to give this conundrum several weeks of noodling.  I was helped by the fact that the mis-cut was perfectly symmetrical to the back-strip inlay lines.  What you see in this photo is the result of some really, really careful remedial inlay work while the guitar was still in progress.