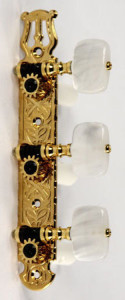 I have always found it hard to understand why many otherwise excellent guitars I encounter are equipped with tuners which are cheaply made, unattractive and hard to operate. High-quality tuners can add so much to the pleasure of playing a fine guitar. However, they can be downright crucial in high-stress concert situations where tuning and re-tuning must be done quickly, precisely and without added distraction from unpredictable or excessively hard operation.
Gotoh Lyre

—These are the standard tuners on my guitars, the best I know of for the price.
Gotoh Premium—This is the finest Gotoh classical tuner, with Hauser-style plates.
Gilbert Tuners—Invented by luthier John Gilbert, these tuners are mechanically unsurpassed and uniquely attractive.  A big advantage: some parts are replaceable.
Sloane Tuners—These bronze finish tuners are some of the finest made in the U. S., high precision, very smooth.
Rodgers Tuners, Close Up—Now you get to see what a work of art are these tuners really are.