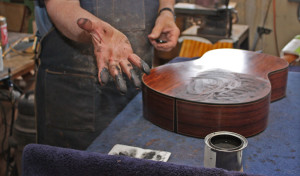 The lacquer I apply to my guitars is probably the most universally used guitar finish ever invented.  It is specially formulated for guitars to be beautiful but at the same time resistant to cracking.
After final sanding and application of material to fill the pores in the wood of the neck and back & sides, a coat of sealer is followed by several coats of lacquer: five coats on the back & sides, three coats on the soundboard and neck.
After drying overnight, the lacquer is processed in several ways. The back and soundboard are leveled with a woodworking scraper, then sanded and polished. The neck is sanded smooth but not level and then polished; this leaves a little porosity in the surface which is actually preferable playability-wise than a mirror gloss.
The processing removes a substantial amount of the original sprayed-on lacquer, which makes for a thinner finish. The back & sides are left with approximately three remaining coats, the soundboard with about two. That's nice and thin for good sound